10 Million Dollar Sheriff: Part 2 is the ninth episode of season 4 of the Dukes of Hazzard.
Summary
With Jesse in the hospital fighting for his life, Steele finally tricks Bo and Luke into driving a stolen Dodge Charger painted exactly like the General Lee and has them arrested. Just then, Rosco's attorney returns to town to correct a big mistake - Rosco has only inherited $10, which leaves him well short of the $100,000 fee he promised Steele. Steele isn't interested in excuses and decides to kill Rosco, leaving Bo and Luke to come after him and defeat the phony bounty hunter.
Plot
Hospital
Bo and Luke stand by Jesse's bed, Bo sitting by him holding his hand. Bo asks if Jesse is going to be alright and the Doctor says he can't say and it's out of their hands. As the doctor leaves, they move over to where Cooter and Daisy are, asking if they have any idea what happened. Daisy and Cooter say no an Cooter says he was like that when he found him. Bo remarks he doesn't know what Jesse was doing in that part of the county and Daisy says it was her fault. Luke says it wasn't her fault and Cooter says it's none of them but Steele. Bo gets upset and goes back to Jesse's side, fixing his hair.
Boar's Nest
Rosco renames the Boar's Nest and gets a call to inform him of Jesse's injury. Rosco is upset and hears a knock. He calls Boss in and asks what Boss wants. Boss tells Rosco that there is an emergency and that Lulu is hungry and when Boss asks if Rosco knows how much it costs to feed Lulu, Rosco asks why does Boss think he and Mama let him marry her in the first place. Boss says he doesn't have the ability to feed Lulu like she has become accustomed. Boss gets on his knees and begs Rosco to help support them. Rosco tells him he couldn't give him a red, white, or blue cent and tells Boss to get a job. Boss agrees and Rosco days he can use another deputy. Boss gets upset and Rosco tells him he can have the job if he calls Rosco Sir, if he grovels once in a while, and if they can fit him in a uniform. Boss agrees, stealing a chicken leg from Rosco.
Town of Hazzard
Rosco swears Boss in, scolding Boss about his appearance. He also makes Boss call him Sir. Rosco gets a call and hears Steele. Steele says he needs pictures of the General Lee, from all four sides and he needs them today. Rosco tells Boss that he's supposed to be at attention and says his first assignment is supposed to be going to the Duke Farm with him. They leave, Boss hitting Rosco with the door on the way out.
Duke Farm
Bo, Luke, and Daisy sit down for dinner. Luke says grace and prays that god will allow Jesse to stay with them for a bit longer. Outside, Rosco and Boss arrive. Rosco gives him the camera asking if he knows what to do and how to do it. Boss says he doesn't know why as they know what it looks like. Boss goes to the General and starts taking the pictures, checking the house periodically to ensure the Dukes don't spot him. One of the goats ram into him, causing Boss to yell. He tries to run, hitting a clothes line and falling into a water trough. Hearing him, the Dukes look out the window before going outside. Seeing Rosco and Boss driving away, Bo and Luke get in the General and chase after them.
Balladeer: Now friends and neighbors, despite all that's happened, this makes me feel that things are beginning to get back to normal.
Road
Rosco approaches a road work area and moves around it. Bo jumps over the roadwork to land in front of Rosco's car. Bo then stops, forcing Rosco to stop. They get out and Bo asks Boss what he's doing in a deputy uniform. Rosco informs them he hired Boss. Bo asks why they were at the farm. Rosco says they came to offer their condolences to Jesse. Luke asks what they were taking pictures of. Boss says the General and asks Rosco why but Rosco just tells him to zip. Luke says he owes an explanation. Rosco says it's for a wanted poster. Bo and Luke leave to go back home.
Hospital
The doctor and the nurse look over Jesse, but no change has occurred in his condition.
Road
Rosco starts to have second thoughts and goes out to find Steele. While Rosco calls for him, Steele sneaks into his car. Rosco hands over the pictures before asking Steele if he can make sure no one else got hurt as he feels bad about Jesse. Steele accuses him of being on the other side and Rosco says he's not on anyone's side who would get his friends hurt, even if they are enemies.
Hospital
While Daisy is checking on Jesse, a knock comes at the door. She opens it to see Boss. Boss greets her and gives her some flowers for Jesse saying he had to pick them as Rosco bought out the whole florist shop. She says she figured that when all the other flowers arrived. She says it's not the flowers that are important but the thought. Boss tells her he and Jesse go back a long ways and no one knows better than him that Jesse is a tough old goat. Boss says he never thought anything like this would happen. Daisy hugs him saying none of the Dukes are holding anything against him or Rosco. Boss is surprised and says it would be better if they did. She hugs him and Boss says he's responsible for a little and he's paying for it now. He tells Daisy to tell Jesse he was here when Jesse comes out of it. Daisy agrees, worried.
Balladeer: The doctor said with a head injury at Jesse's age, nobody could tell what's gonna happen. The boys were worried sick of course but they still had to find Steele and they figured they could make him come to them. Friends there ain't nothing subtle about that.
Town of Hazzard
Bo and Luke drive around town in the General. While Luke drives, Bo sits on the hood using a speaker system to call Steele a coward and challenge him to meet them in the square at noon. Steele and Dawson hear it and Steele decides to go and try to get them to do something to get arrested.
At noon people clear the town square, not knowing what to expect from Steele. Bo and Luke stand outside of the Bank and Luke says for them to step out to the curb. Cooter waits in his garage with a wrench. At exactly noon Steele exits the church and they meet in the street. Cletus and Rosco watch, hoping there will be no trouble. They start talking and Bo reminds him that they can file charges against Steele but Steele says they won't stick. Luke says Jesse got hurt and if he doesn't make it they will be back for him. Bo goes to warn him but Steele cuts him off and calls Bo scum. Furious Bo goes to attack him but Luke pulls him back. Steele antagonizes Bo again and Luke pulls him back saying this is what Steele wants. Bo says fighting is only a misdemeanor and to let him hit him but Luke says they will be charged with assault and violating their probation. Bo calms down. Steele says he will get them and leaves to which Luke drags Bo to the car.
As Steele passes the church, Rosco calls out to him. Rosco tells Steele that the boys aren't as bad as they seem and sometimes they are naughty but their Uncle is in the hospital and maybe they should wait for a bit but Steele says no.
Dawson pulls up to Cooter's in a brown van with bars on it. Dawson asks where he can find Bo and Luke and Cooter explains that since he's working on Daisy's jeep, he can find the boys at the Boar's Nest. As Dawson leaves, Cooter notices the bars.
Hospital
Bo, Luke, and Daisy see Jesse at the hospital. Bo begs him to wake up and Daisy tells him it's not use as Bo starts crying. Daisy says the doctor said it might take a few days. Bo says it doesn't make a difference as long as Jesse does. Luke says for them all to leave to get Daisy to leave, assuring Bo that Jesse will be alright.
Road
Daisy says no one has seen Steele since the boys saw him. Bo says maybe they scared him and while Daisy gives him a disbelieving look, Luke says its wishful thinking and Steele will be back. Cooter calls them over the CB and Daisy answers. Luke describes the man and tells them about the van. The Dukes all deny knowing him and Cooter says he'll be at the Boar's Nest.
Boar's Nest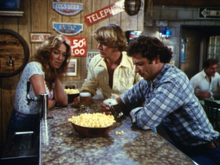 Bo and Luke pull in and all three get out and Steele watches. Daisy offers for them to come in and have a beer. As they go inside Steele prepares his plan. Inside Daisy gives them beers but they spit it out as it's too watered down. Daisy says it's foam. Luke says Rosco is making Boss look good and they give the beers back. The boys go outside the get in the General, Bo saying he never thought the day would come where he missed seeing Boss. As they go to pull out, Rosco comes up with the others and sirens blaring. Bo asks what they want and Luke says not to wait around and ask.
Road
As Bo drives, he asks Luke if the General feels a little strange and Luke says it sounds like Bo tuned him instead of him. The boys continue to run when they see a hey trailer. Bo manages to get around but Cletus is waiting, forcing him to turn around. The driver of the cart gets out of the way. Coming back Bo manages to evade the other three but the radiator goes as they pull back into the Boar's Nest. Rosco, Cletus, Steele, and Dawson get out. Rosco confronts them saying he's been waiting a long time. Rosco says they are under arrest for Grand Theft Auto. Bo asks what auto and they say the one the boys are driving. Luke says that the car is theirs and Dawson admits it was a car painted to look like the General. When they open the doors on the car, the boys realize they were framed. Luke says that would explain the photo trip. They are arrested by Cletus.
Hospital
The nurse brings in some flowers while the doctor reviews Jesse's chart again.
Police Department
Cletus locks Bo and Luke in a cell and Rosco taunts them. Luke says Rosco is forgetting their phone call and Bo says they need to call the hospital. Rosco says he is going to take care of that as he's just as concerned about Jesse as them. Boss, who is moping the floors, pokes Rosco with the mop and pretends to be innocent. Cletus apologizes to the boys and Bo asks Boss for his opinion. Boss says he wouldn't mind seeing them on the loose.
Boar's Nest
While Daisy and Cooter go outside they are stunned to see the General. They walk over to check it out. Cooter brings up the friend but Daisy says if a friend did arrive the boys would have brought him in to meet her, which Cooter agrees. Cooter sees another General Lee in the bushes and opens the hood to see the car in the open is a fake. He tells Daisy he's going to get the General and find the boys and tells Daisy to go to the hospital and take care of Uncle Jesse. Daisy hugs him and Cooter says not to worry as the boys can all take care of themselves.
Police Department
Cletus comes in with lunch for them all. Boss quickly claims his and sits down to eat. Cletus goes to the cell and Bo says while Cletus is a magician he doesn't see how Cletus will get the trays through the bars. Cletus suggests straws and a blender. They agree to open the cell and Luke confirms it's the big key. As they open the cell the boys close the door and lock Cletus in before closing. Boss yells and goes to chase them but steps in a bucket. Outside Rosco is on his way in when Bo and Luke run out with Boss chasing them. Rosco goes to grab the boys but Boss falls down the steps on him as the boys evade him. However they run into Steele and Dawson, who pull a gun on them and put them in the van.
Rosco and Boss get off the ground to see the boys being taken away in the van. They run over to investigate while the men drive away. Reynolds pulls up and Rosco asks if he's there to give him the rest of his inheritance. When Reynolds says not exactly, Boss dismisses it. Reynolds explains there was a mistake and Boss becomes excited. Reynolds explains that the mistake was that the money wasn't 10 million but just 10 dollars. Boss becomes excited saying that it's his and that since Rosco wasn't playing with real money the poker game doesn't count and that Rosco has to return everything that he won. Reynolds says Rosco also has to return the $50,000 he was advanced. Rosco becomes excited saying this is good news because now he can't pay Steele and the boys have to be let go. Rosco then leaves to go after them. Realizing he can't take the Rolls he gets in Cletus' patrol car.
Hospital
Cole check on Jesse and is pleased with his progress. He goes to leave as Daisy comes in. The Doctor says he's doing better and Jesse calls out to her. Daisy goes to the bed, hugging him in relief.
Road
Bo and Luke work on the back door of the van. Luke holds open the latch as Bo kicks it. However the door doesn't budge. Meanwhile Rosco calls Rosco and tells him that Bo and Luke are in a van that looks like a prison and to cut off the van at Moose Creek. Cooter, who is towing the General overhears and heads over there as well. Rosco catches up to the van and Bo and Luke remark they have never been happy to hear a siren. Luke says that it's Rosco, Cletus, or Boss so it's like Russian Roulette and they better just keep trying with the door. Rosco cuts off the van and Bo and Luke manage to get the door open. The boys run and Dawson stops them. They almost escape from Dawson but Steele supports him.  Rosco pulls up and approaches the four before explaining that he can't pay Steele. Bo and Luke listen to Rosco, learning along with the others that he can't pay Steele. Steele kidnaps Rosco as Dawson puts Bo and Luke in the patrol car, taking the keys, the CB, and shooting out a tire. As they leave Bo asks what are they going to do now. Luke says they don't have much of a choice but hitchhike.
In the van, Steele tells Rosco call Boss Hogg on the CB. Rosco says he doesn't think it'll do much good but Steele says that if Rosco doesn't then he'll die.
While Bo an Luke start walking, they see Cooter pull up with the General. They are grateful and help Cooter get the car down. They fill Cooter in as they free the General. Cooter promises to look as well as the boys drive away.
Rosco calls Boss, who is eating in the Boar's Nest. Boss ignores him at first but after Rosco keeps calling he answers. He reminds Rosco that he's the richest man in Hazzard and pretends not to remember who Rosco is. Rosco asks if he could loan him $100,000 to which Boss starts laughing. Rosco first thinks it's good but when Boss laughs too long he realizes Boss won't do it. Boss remarks that Rosco isn't worth that to him right now and that he won't give Rosco a cent. Rosco asks to be given the time to make out a will and Steele offers him a pencil.  While Rosco sits in the back of van, he leaves everything to Flash in his will with the exception of whatever his mama wants.
Bo and Luke catch up to the van and Luke tells Bo to get as close as he can. As Bo does, Luke climbs onto the top of the van. He hangs off the side to cover the windshield and since the glass is bulletproof, they realize they have to pull over. Both vehicles pull over and Luke gets off the van as Bo, Steele, and Dawson get out. Luke and Steele start to fight as Bo fights Dawson. Steele gets the upper hand on Luke as he and Luke come to the drivers side of the van just as Bo knocks Dawson out. Steele begins to fight both Bo and Luke but the cousins gain the upper hand, knocking him out. They check on each other before shaking hands.
Balladeer: Well, that was Steele's last bounty, 'cause he was guilty of kidnapping the Sheriff. Boss and Rosco made up. And the best part was Uncle Jesse was back on his feet. Oh and uh, Rosco did give Bo and Luke a ticket for speeding when they was trying to save his life. Sure looks like things are about back to normal in Hazzard County huh?
Police Department
Bo, Luke, and Rosco take Steele and Dawson to the Police Department and have them arrested. As Cletus fingerprints them he gets covered in ink.
Boar's Nest
Rosco explains to Boss what happened and Boss is stunned. Boss says if he knew Rosco had been in real danger he would have loaned him everything he had. The two hug but when Rosco asks to loan $10, Boss refuses.
Hospital
Jesse gets released from the hospital and Bo, Daisy, and Luke try to help him out but Jesse refuses, walking on his own.
Cast
Main Character
Guest Star
Locations
Unknown County
Continuity
10 Million Dollar Sheriff is the second two part special after Carnival of Thrills.
This episode picks up after Jesse was found in the previous episode
This episode is the second time a member of the Duke Family has been admitted to the hospital
Boss Hogg becomes a deputy for this episode due to the poker game in the previous episode