Portrayed By
Profile
'CB' Handle
{{{'CB' Handle}}}
Affiliation
{{{Affiliation}}}
Relationships
{{{Production Information}}}
Created By
{{{Created By}}}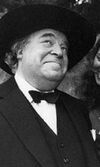 Abraham Lincoln Hogg is a fictional character on the American television series The Dukes of Hazzard and the twin brother of Boss Hogg.
He's a very wealthy man, like his twin
brother, but despite his wealth and
power, he is in many ways the
complete opposite of Boss Hogg
Where Boss Hogg is the namesake of Jefferson Davis, the President of the Confederate States and leader of the Confederate States Army during the American Civil War, Abraham Lincoln Hogg was named for Abraham Lincoln, the President of the United States and commander-in-chief of the Union Army.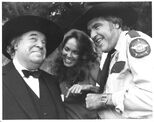 Unlike Boss Hogg, who wears an all-white suit, drives a white Cadillac, and is morally bankrupt, Abraham Lincoln Hogg wears black minister's clothes, drives a black Cadillac, and is honest and pious.
Abraham Lincoln Hogg is described by his brother as the "white sheep" of the Hogg family and the shame of the whole Hogg clan.
Unlike the other Hoggs, Abraham made all his money legally, and travels around the world doing good works.
He appears in the episode Baa Baa White Sheep when he comes to town for the reading of his great aunt's will. This proves to be a problem for Boss, who had Abraham declared dead in an attempt to cheat his brother out of his inheritance.
Notes
Sorrell Booke played the roles of both Boss Hogg and Abraham Lincoln Hogg.
Episode Appearances
Season 3 episode 7 "Baa, Baa White Sheep"