We're Getting Mutants in the MCU - The Loop
Play Sound
Ben Lewis Jones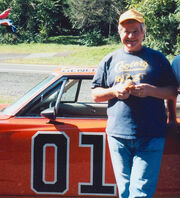 (born on August 30, 1941) is an American actor, politician, playwright and essayist, probably best known for his role as Cooter Davenport in The Dukes of Hazzard.
Jones also served for four years in the United States House of Representatives from January 1989 to January 3, 1993.
During the second season of The Dukes of Hazzard, Ben Jones left the series for a few episodes due to a dispute over whether the character should be unshaven or have a full beard. In his absence, Cooter's place was filled by several of Cooter's supposed cousins who were never mentioned before or since. Jones returned when the dispute was solved—Cooter would be clean shaven.
Personal life
Jones is a 1959 graduate of Woodrow Wilson High School in Portsmouth, Virginia and attended the University of North Carolina for four years. He is married to Alma Viator. They have a daughter, Rachel, and a son, Walker. Jones is a long time friend of Cincinnati Reds announcer Marty Brennaman.
Since the 1990s, Jones has run a chain of "Cooter's museums" across the US, dedicated to The Dukes of Hazzard. He also organized the annual "Dukefest" gathering.
Political career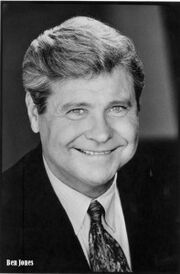 Following the end of The Dukes of Hazzard, Jones entered the political arena as a DemocratIn 1986, he ran unsuccessfully against Pat Swindall for a seat in the United States House of Representatives from Georgia, but lost, winning 47% of the vote, more than expected. He ran again in 1988, against Swindall, this time easily winning.
Jones was narrowly re-elected in 1990, but in 1992, following redistricting which moved his home into another district, he was defeated in the Democratic primary election. In 1994, he ran against the then-House Minority Whip and soon-to-be House Speaker Newt Gingrich. Jones received 35% of the vote.
Jones has since returned to acting, as well as becoming a well-known writer, writing many political essays and one play.
In 1998, he broke from most Democrats and asked President Bill Clinton to resign during his trial and impeachment. Jones is still active in the Democratic Party.
In 2002, he ran unsuccessfully for a seat in the United States House from Virginia against Republican incumbent Eric Cantor, thus becoming one of very few recent American politicians to seek elective office in more than one state.