Beauregard "Bo" Duke is a fictional character in the American movie The Dukes of Hazzard: The Beginning which came into the theaters in 2007. He is a younger version of the Bo Duke from the The Dukes of Hazzard TV series and was played by actor Jonathan Bennett (born 1981).
Physical appearance
According to a wanted poster issued by the Hazzard County Police Department, Bo Duke stands 6'2" (188 cm) tall and has a weight of 170 lbs (77 kg). Bo has hazel eyes and blonde hair. He mostly wears a T-shirt, blue jeans with a brown or black leather belt and brown boots.
Storyline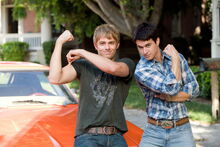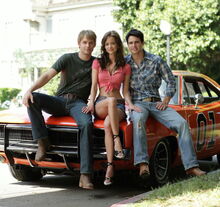 A young Bo Duke is arrested for destructive driving and sentenced to a summer of hard work on the farm of his Uncle Jesse in Hazzard County. When he arrives there, he bumps into his cousin Luke who has been arrested for blowing up illegal fireworks, and the two immediately start fighting.
From then on, the two stick together and take all their actions in common until Bo runs the General Lee into a tree whil they chase Boss Hogg's nephew Hughie on his way to a secret distillery. Luke blames Bo for having blown their last chance to save Uncle Jesse from jail and to get his farm back from Boss Hogg. He walks away, and Bo remains behind. In rage, he even kicks the General Lee, but then follows Luke in the car and reaches him just as he has crossed the border of Hazzard County. He says he can't follow him because he has come to love the people and the live in the county. He suggests to forget what happend, and Luke agrees. Together, they succeed in unveiling Boss Hogg's illegal distilling activities, thus saving Uncle Jesse from jail. With their reward, they can buy the Duke farm back from Boss Hogg.
Videos
See Also