"Bye, Bye, Boss" is the twentieth episode of the third season of The Dukes Of Hazzard.
Summary
While on the way to the Boar's Nest, Bo and Luke are ambushed by escaped convict Digger Jackson (Charles Napier), who steals the General Lee and plans to hunt down Boss Hogg. Jackson is angry and bent on settling a score with Boss Hogg -- the man who put Jackson in prison 10 years ago. Bo and Luke are accused of a robbery committed by Jackson, and when Jackson kidnaps Boss for a ransom, no one in Hazzard wants to help get Boss back from Jackson. Realizing that, the Dukes take on the task.
Plot
Balladeer: Now some folks think that because you always see the Duke boys tearing around in the General, that they never do any work. Well they do. They just don't punch nobody's clock but their own. Now for all you late comers, Shepherd is the one in the red hat. Now while the boys were headed to the store, a stranger was walking down the road. And when somebody's walking in Hazzard County it means that their car's dead, their mule has died, or they got trouble.
Bo and Luke drive down the road and Bo radio's Jesse who is trying to calm Maudine who is pulling a log. Bo keep calling Jesse and he hears the call, stopping the mule and saying she gets too excited. Bo tells him that they are going to get the roll of screen and Jesse says Homer is saving the last roll for them. Bo asks what he's doing and he says he and Maudine are getting the fire wood. Bo asks why he didn't use the truck and Jesse hushes him, not wanting to upset her. Jesse tells them to have a beer for him but it's not on him. Bo and Luke see a hitchhiker and decides to stop. When they do Digger Jackson pulls out a gun.
Boar's Nest
Rosco runs into Boss' office saying Digger Jackson escaped. Rosco reminds Boss that Digger was the guy who Boss had sent to prison and threatened to blow a hole in Boss big enough to drive a tractor through. Rosco says he called the Marshall but they sent the men to Central City. Rosco tells Boss not to worry as he has Rosco, Cletus, and Flash.
Road
Digger ties up Bo and Luke on the side of the road. Bo asks if they can talk about it and Digger says no as he's been waiting for 10 years. He steals the General and as he leaves Luke tells Bo he should've knocked the gun out of the man's hand. Bo asks if Luke would have and Luke says he would have tried. Luke starts to get free. Digger pulls up to the General store and robs it after locking the clerk in the back room. The clerk breaks out and seeing the General, assumes it was Bo and Luke. Bo and Luke get free and see Hobie driving. They stop him and ask him for a ride into Hazzard. Confused, Hobie agrees as he assumes they were already riding with him. Bo and Luke become very nervous.
Boar's Nest
Rosco tries to assure Boss that he's safe. Boss says Digger Jackson has a mean streak and will kill him. Rosco gets a phone call from Homer at the store who tells him that the Duke boys just robbed his store. Rosco is surprised, asking if Homer is sure before telling him to make out a list. Rosco gets excited and goes to chase after the Dukes but Boss tells Rosco not to move and just have Cletus arrest the Dukes.
Cletus sings in his car as he drives when he gets a call from Rosco. Rosco tells him to find the boys and arrest them for armed robbery. Cletus reminds him that the Dukes don't carry guns and Rosco tells him to get them for unarmed robbery. Cletus agrees. Bo and Luke convince Hobie to let Luke drive, and Hobie releases the wheel, nearly causing them to crash. Cletus sees the car and chases after, assuming it's a drunk driver. Hearing the siren, Bo asks if Luke has any idea what is going on. Luke says it looks like Cletus is chasing them.
Boar's Nest
Rosco orders food for him and Boss that Morton hands to him through a window above the door. Boss takes both.
Road
Cletus radios Rosco to tell him he's chasing after a drunk driver. Rosco tells Cletus to find the Dukes but Cletus says that he's getting the drunk driver first which angers' Rosco. Bo and Luke realize they can't get away from him and Luke pulls over, Bo and Luke fleeing while Cletus is stopping. Cletus arrests Hobie for drunk driving because even though he was in the back seat he was the only one in the car.
Cabin
Digger gets settle in a cabin and does target practice with a poster of Boss.
Boar's Nest
Boss feels a pain in his heart while playing checkers with Rosco and Rosco says it's probably because Boss ate his lunch. Many people hear the radio station that Digger Jackson is free and is a danger to Boss Hogg.
Duke Farm
As the Dukes and Cooter put on the new screen, Jesse tells them about Digger Jackson's trial. Cooter says he would hate to be in Boss' shoes and Luke reminds them that he and Bo are wanted for robbery. Daisy says she bets it was all Digger Jackson and Luke says if they find the General they can clear themselves. Luke says for Jesse and Cooter to look for the General and they just put on new tires. They both agree. Luke says they are going to find Hobie to see if he can explain that they were with him. Bo says that should be fun as they haven't' broken into jail in two or three months.
Boar's Nest
Boss puts on a gun and Lulu goes to the Boar's Nest. Lulu says Rosco told her that he was in trouble and is shocked to see the gun. She tells Boss that is crazy but Boss says a man can't hide forever. Lulu says he can't hit the side of a barn with a machine gun and she hugs him. Digger heads out. Boss tells Lulu he's going into the bar and is going to deputize everyone and Lulu says people don't want any of his troubles.
Police Department
Jesse and Cooter look around for the General and Bo and Luke go into the police station. Jesse calls Cooter and they both say they haven't seen the tire's. Bo wakes up Hobie by dumping water in his face. Luke tells Bo to keep watch and Bo goes to the window, moving Flash who is sleeping on the bed and apologizing to her for moving her. Luke starts to ask Hobie if he remembers them.
Boar's Nest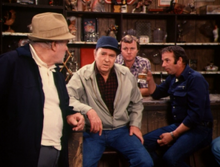 Boss tries to talk to a few of the people in the Boar's nest with Daisy, Lulu, and Rosco backing him up. As Fred, Smiley, and Deke Haskell goes to leave, Boss reminds him that he loaned him some money and Deke says Boss charged him 50% interest. They leave and Boss collapses in a chair. Rosco tells him just not to loan Deke anymore and Daisy asks if she can get him anything. Boss tells Rosco to go to the police station and get him something better. Lulu tries to comfort him.
Police Station
Luke asks Hobie who are they and Hobie guesses 'Homer and Jethro' annoying Luke and exasperating Bo. Bo sees Rosco has arrived and Luke has Hobie fall on the bed. As they flee Rosco catches them outside. Bo reminds Rosco that Boss doesn't like people on the grass. Rosco notices Nel, the gardner, also has his hands up. While Rosco explains he didn't mean him, Bo and Luke dump a bag of grass clippings on his head and run. The man helps him get the bag off as they boys leave. Rosco chases after them.
Boar's Nest
Digger Jackson pulls into the Boar's Nest and Deke and the others leave. He walks into the Boar's Nest. When the locals see him they scatter and he focuses on Boss Hogg. He tells Boss to get up, which Boss does. He then tells Boss to draw his gun and Boss drops it in shock. Jackson says that was a smart move and allowed him to live a little longer. He starts pulling Boss out of the Boar's Nest by his watch, telling everyone present he wants $100,000 by noon tomorrow. He says he wants it in a hollow tree where Route 4 meets the highway. Lulu starts sobbing and after Digger leaves she collapses, breaking a chair and a table. Daisy rushes over to comfort her and help her up.
Road
Rosco continues to chase Bo and Luke, assuming he has them. Luke tells Bo that Rosco is gaining on them and Bo says he's hoping to get the delivery truck that is in front of them between them and Rosco. Rosco threatens to shoot out a tire and Luke tells Bo to stand on it. Rosco starts shooting and hits the tire on the delivery truck by accident. The truck loses control an blocks the road, forcing Bo to stop. Bo and Luke run but Rosco catches them anyway. Rosco tosses his cuffs to Luke and has the boys put them on as they come back to the road. Luke tries to explain it was Digger Jackson. Rosco remarks 'and my mother's Jeb Stuart' to which Bo says they are sorry to hear that but Rosco needs to listen. As the boys talk to him Rosco falls down the hill and Bo and Luke leave. The truck driver helps Rosco.
Digger Jackson drives him and Boss. When Boss asks where are they going, Digger says it may be his last ride and if the money isn't' delivered he won't have to remember how to get back. Boss says he doesn't have that much of a sense of direction and Digger says he'll have them put that on his tombstone which he says is considerate of him. They go off road and Boss remarks he didn't even know it was possible to get a car into that place.
Boar's Nest
Jesse goes to the Boar's Nest, having a beer and hearing Deke venting about Boss and saying good riddance to him. Jesse scolds him saying there is a man out there who's life is in danger and while it is Boss Hogg he is a human. When Deke says Boss never lifted a finger to help them Daisy reminds him they are supposed to do unto others as you'd have them do unto you, not as they did unto you.  Deke says Boss has done plenty but stops when Rosco comes in. They ask Boss if Lulu is going to buy Boss back and he tells them to hush and says he only just learned himself.
Duke Farm
Bo and Luke get back to the farm and hide out in the house.
Cabin
Digger yells at Boss as he ties him up. He explains that when he was a moonshiner he made nearly $10,000 a year, so Boss has cheated him out of $100,000. He says Lulu and the town need to raise that money to get him back and Boss says they will never be able to do it. Boss says that he has the money and can get it for Digger if he lets him go. Digger gets angry and tells him he has until tomorrow noon. Boss asks if that is the case then what is for dinner.
Boar's Nest
Lulu explains to Rosco and Cletus that she has been trying to get the money but she can't as she can't find it. Osco tries to calm her down saying that there is nothing they will do to Boss. Cletus agrees that he's a good man. Rosco says that every dog gets a little manage every now and again but to look at how Boss treats him, giving him 10%. Lulu sobs harder saying Boss is generous to a fault.
Duke Farm
Jesse cuts the boys free as Daisy feeds the goat. Bo and Luke are shocked no one tried to help Boss. Bo protests that doesn't make sense Luke comments that if they can find the General they can save them and Boss. Jesse says that they looked everywhere a car could go and Bo remarks that it's like the ground just swallowed the General up. Jesse remarks maybe it did, clarifying that they looked everywhere a car could go, not where an idiot would take car. Luke suggests Hickory Canyon and Bo says if that's true then the General must've taken a beating. Daisy suggests they take Dixie but Luke says they need more than on vehicle as they have to split up. Luke says they can get three of the original off road vehicles.
Boar's Nest
The next day Bo, Luke, and Daisy borrow three horses and ride out to the canyon. Jesse goes to see Lulu and she explains she's looked everywhere but she can't find the money. Jesse says they both know he's got more than enough for that. Lulu asks what are they going to do as it's already 8:35.
Hickory Canyon
Bo, Luke, and Daisy arrive at the canyon and ride down the hill.
Boar's Nest
Jesse starts collecting money, getting a whole piggy bank from a young woman. Another woman makes a small donation and Jesse turns to smile at Lulu, Rosco, and Cletus watch. The next man, Smiley gives a small coin and Rosco says it's a tribute. The next man dumps in a change purse and the next man gives Jesse a bill. Annoyed, Jesse takes his wallet. Lulu remarks Boss brought out the best in folks, which Rosco remarks their money. The next man gives Jesse an entire jar full of cash.
Hickory Canyon
Bo reminds Luke and Daisy there is a bridge up ahead. When they get there they find it's collapsed. Daisy says they haven't been there since they were kids. Bo asks what is the bright idea now and Daisy says they will just have to go the other way. She turns around and gets a run at it, jumping over the bridge. Luke follows, then Bo does. Digger and Boss have breakfast. Boss asks for another piece and Digger gives it to him. Digger remarks Boss has more money than he thought and he should charge more. Boss tells him to name it and if he lets Boss go he'll go get it. Digger tells him to stop saying Lulu doesn't know where it is and Boss says Digger doesn't know Lulu and he can't let her have access to the money as she will eat it all away. Boss sees the stove and asks Digger for a damp cloth to clean up. Digger agrees and rips a curtain off the wall. Bo, Luke, and Daisy keep looking.
Boar's Nest
Jesse and Lulu look at the clock to see its 11:17 and Jesse apologizes saying they all tried real hard but there wasn't enough time or money. Lulu says she knows and she wants to thank them all for trying. Jesse says he'd move a mountain right now to get Boss back but tells her not to give up as his kids haven't given up yet. Lulu says she always knew Jesse was a good man before hugging him and sobbing.
Hickory Canyon
Boss buys time by cleaning his face. The Dukes all split up. Luke calls Bo and Daisy, which Digger hears. Boss tells Digger the Dukes are going to save him and he says for Boss to settle down as the Webster Cabin is so well hid the Dukes will never find it. Boss tosses the wet rag in the fire to create smoke. The Dukes see it. Boss asks what time is it and Digger says it's that time and he's taking Boss with him just in case. He sees the fire and becomes enraged, yelling he will skin Boss for that stunt as he pulls the rag out. Digger tries to leave but is confronted by Daisy, Bo, and Luke as they arrive. Digger leaves and Bo and Luke chase him as Daisy helps Boss.
Digger tries to lose the boys by jumping a bridge but they go around. He begins to shoot at them and Bo and Luke take a shortcut to get around him. He fires the rest of his bullets and tries to run them down. Luke and Bo split up and Digger chases Bo. Luke combs into a tree and Bo leads Digger under it. Luke drops down on the General and Digger tries to pull him off. Luke manages to knock Digger out and climb into the car, Bo scrambling over to check on him.
Balladeer: Well they say absence makes the heart grow fonder. Lulu was sure glad to have old chickabiddy home. "Chickabiddy". How do you reckon that got started? And Digger went home too, right back to the state pen. When the boys gave Boss a bill for damages to the General Lee, well things were back to normal. Even Boss' old speed trap was working normal. And caught a pretty big fish this time.
Boar's Nest
Lulu and Boss toast his survival. Rosco and Cletus lock up Digger, who selects the second cell instead of the first one. Bo and Luke deliver a bill to Boss, that he promptly rips up. Freddie Fender is caught in Hazzard. He perfomrs in the Boar's Nest with Daisy sitting by him at the bar, Cletus sits by her, and the Dukes and Cooter sit at a table. Boss, Rosco, and Flash watch from the back. Freddy sings to Daisy flattering her. After he tells Cletus to tear up the speeding ticket and Daisy scolds him. Cletus tears it up. Freddie says he's going to take the advice from all the other singers to not take a shortcut through Hazzard on his day off.
Cast
Main Characters
Guest Starring
Locations
Continuity