Jurassic World: Dominion Dominates Fandom Wikis - The Loop
Play Sound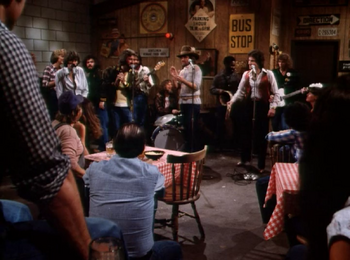 The celebrity speed trap was one of the notable recurring gags of The Dukes of Hazzard TV series. During the show's second season, the show's writers began incorporating a "celebrity speed trap" into some of the episodes, as a means to feature top country music stars of the day performing their hits. On its first couple of instances, the "speed trap" was featured early in the story, but for most of the cases, it was featured in the last few minutes of an episode, often used when the main story was running too short to fill episode time.
The "celebrity speed trap" feature was essentially the same each time: Aware that a big-name country star was passing through the area, Boss Hogg would order Rosco to lower the speed limit on a particular road to an unreasonable level (using a reversible sign, with one speed limit on one side and another, far lower, on the back), so that the targeted singer would be in violation of the posted limit. The singer would be required to give a free performance at the Boar's Nest in exchange for having their citations forgiven; the performer would then perform one of their best-known hits or other popular country music standard, while the Dukes, Boss, Rosco, Enos, Cletus, Cooter, and other patrons whooped and hollered in enjoyment of the performance. Typically, the nabbed act would give a parting shot to the nefarious commissioner and his half-witted yes man.
Participants
Celebrities who were caught included:
Hoyt Axton

[1]

Donna Fargo

[2]

Freddy Fender

[3]

Doug Kershaw

(on the original soundtrack)

Roy Orbison

[6]

Buck Owens

[7]

Johnny Paycheck

(lip-syncing an original recording)[8]

Mel Tillis

[9]

Dottie West

[10]

Tammy Wynette

[11]
Waylon Jennings (the show's narrator)

Honorable Mention:
Mickey Gilley - Gilley appeared as himself for a concert in Hazzard, but was nabbed while leaving and forced to do a second show to nullify his citation. [12] It is also worth noting that Mickey Gilley did not perform at the Boar's Nest but in the Town Square for both his charity concert and his speeding ticket.
Loretta Lynn- Boss Hogg had planned for Loretta Lynn to be detoured by the Boar's Nest but had not planned to stop her. Loretta and her group stopped anyway due to the driver needing to use the bathroom. After the Dukes had helped rescue Loretta she had sang at the Boar's Nest of her own choice.[13]
Trivia
In the Dukes of Hazzard series, many of the country singers talk to each other and warn each other not to pass through Hazzard County due to the speed trap.
Donna Fargo and Loretta Lynn had previously helped the Duke Family trap a record pirate. At the request of Jessi Colter's manager the two made a rehearsal tape to allow Daisy to pretend to be a vocal sound alike. It is unknown if they knew the specifics of who they were assisting.[14]
References