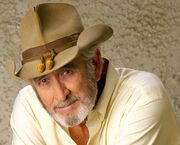 Don Williams (born May 27, 1939 in Floydada, Texas), is an American country singer, songwriter and a 2010 inductee to the Country Music Hall of Fame.
Life and carreer
Williams grew up in Portland, Texas, and graduated in 1958 from Gregory-Portland High School. After seven years with the folk-pop group Pozo-Seco Singers, he began his solo career in 1971, singing popular ballads and amassing 17 No. 1 hits.
Williams started out as a songwriter for Jack Music Inc. Eventually, he signed with JMI Records as a solo artist. His 1974 song, "We Should Be Together," reached number five, and he signed with ABC/Dot Records. His first single with ABC/Dot, "I Wouldn't Want to Live If You Didn't Love Me," became a number one hit, and was the first of a string of top ten hits he had between 1974 and 1991 . Only four of his 46 singles didn't make it to the Top Ten.
His straightforward bass-baritone vocals, soft tones, and an imposing build earned him the nickname "The Gentle Giant" of country music.
Early in 2006, Williams announced his "Farewell Tour of the World" and played numerous dates both in the U.S. and abroad, wrapping the tour up with the "Final Farewell Concert" in Memphis, Tennessee at the Cannon Center for Performing Arts on November 21, 2006. Playing to a full house, the final event was well received and quite emotional for fans in attendance.
As of Fall, 2010, Williams had come out of retirement and was once again touring.
Don married Joy Bucher on April 10, 1960. They have two sons, Gary and Tim.
The Dukes of Hazzard: Reunion! (1997)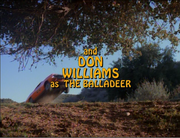 In 1997 Don Williams took over the role as the Balladeer for the first Dukes reunion movie. Like Waylon, Don was only heard in voiceover and never appeared onscreen.
External links