"Double Dukes" is the second episode of the fourth season of The Dukes Of Hazzard.
Summary
Boss Hogg purchases disguises and a duplicate General Lee, and hires a pair of men named Turk (Robin Strand) and Moody (Morgan Stoddard) to rob an armored truck of $250,000 and frame Bo and Luke for it by wearing the disguises and driving the fake General Lee. Bo and Luke find themselves trying to convince the community that they would never rob anyone. To do that, they will have to find Turk and Moody.
Plot
Balladeer: It was one of them days when it seemed nothing can go wrong, and then it does.
Bo and Luke are driving in the General. Luke tells Bo to ease up as he's getting close to Rosco's favorite speed trap. Bo agrees but he actually speeds up. Annoyed Luke asks if he's looking for trouble and Bo says he isn't but the gas pedals' sticking to the floor. The jump the car and fly by Rosco, who is woken up by Flash. Luke reaches down to fix the pedals and Rosco radios Boss. Boss, who is in his office at the Boar's Nest, tells Rosco to let them go. Rosco is confused and reminds him that he said he sees the Dukes. Boss insists to leave them be and Rosco says sometimes it doesn't pay to get out of bed. In the General Bo and Luke notice Rosco didn't chase them and are both confused and concerned.
Boar's Nest
Boss goes over a map explaining that a armored truck will be leaving the Cutlerville National Bank, near Colonial City with $250,000 at 1 o'clock and will be in Hazzard by 2:15. Boss says at 2:17 they hit the truck and head out of town and to take Chestnut Trail to the Coffin Works. Boss says that Rosco will help them get away and he'll have two young men take the blame. Boss says it will all work like a charm, just as long as he gets the special delivery package he ordered. He sends Turk and Moody into the bar to have a few drinks, saying drink is half price.
Road
Luke works on the car on Bo asks what he thinks about Rosco not chasing them. Luke suggests he is sick and gets up from the car. Bo says they should go take a look-see and Luke refuses as he says they shouldn't look a gift horse in the mouth.
Boar's Nest
Daisy gets a tray of drinks and popcorn while talking to a few costumers. She greets Ray while Turk and Moody watch her walk. Daisy approaches them and one grabs her by the arm, asking her to join them. He says he will let her got for a beer and she agrees. When he lets her go she dumps a pitcher of beer on them. The one grabs her and pulls her into his lap. Daisy yells in anger and Cooter stands up from the bar telling them not to be treating her like that. They tell Cooter its none of his business and Cooter says he just made it his business. The three start fighting. Everyone watches the fight and Bo and Luke come up. Bo remarks he can't wait to go have a drink and Luke tells him not to load more than he can carry out. They go inside to see the fight and ask Daisy about it. Daisy tells them what happened and Bo and Luke ask Cooter if they can take over, which Cooter tells them to be his guest. Bo and Luke start to fight Turk and Moody. As Luke throws one over the bar, Rosco comes out to investigate the noise. Alarmed he goes to confront the nearest one but they scare him off before returning to the fight. Rosco shoots out a chandelier and stops the fight. Rosco tries to arrest Bo and Luke but Daisy and Cooter stand up for them. Boss comes out of his office and tells Rosco that he can't arrest Bo and Luke for standing up for Daisy. Rosco goes to arrest the other two on the grounds of having harmless fun. Boss and Rosco goes back into the office as Boss announces beer is on the house. Everyone is shocked by the announcement.
Everyone gets free beers and Rosco asks Boss if he's gone to a doctor recently. Boss says he knows what he's doing. He goes to sit but Flash is sleeping in his chair. In shock he jumps up, throwing out his back in the process. Rosco asks if he can do anything and Boss says it is all his fault and he needs to do something.
Bo and Luke leave the Boar's Nest and head back to the farm. Rosco gets a hot water bottle for Boss and puts it between Boss in the chair. Boss realizes he's getting wet and says Rosco forgot to put the cap back on. Boss is furious and tells Rosco to help him out of his pants as they are wet. Rosco pulls them off.
Balladeer: Now that's Miz Tisdale, the local postmistress. Now she's a case. She took up bike riding when her doctor told her to slow down.
Rosco goes to hand Boss' pants as Miz Tisdale knocks on the door with a package. Rosco answers the door and she comes in. She tells Boss that she has a special package for him, which Boss remarks 'glory be' and has Rosco turn him around as he isn't wearing pants. Miz Tisdale tells him he has to sign for it and Boss hands Rosco the wet pants to hang up. He signs and she says he needs to show an ID. Boss says she knows who he is but she says no id, no delivery. Boss has Rosco get his ID. She insults his picture and legs before leaving. Boss celebrates the arrival of the package and tells Rosco that the 'day of days' has come. He says he's been waiting for 7 months for this box that he paid $2,000 for, shocking Rosco. Rosco asks what is in there and Boss says it's the scam of scams. He calls Turk and Moody in and gives them the box. He says for them to have a dry run.
Duke Farm
Jesse calls the boys from the barn and they are working on the General. Jesse asks how long are they planning to work on it as he needs a spool of barbwire and they agree to go pick it up. Luke says it will give them a chance to find out what is going on. As Luke goes to get in the driver's seat, Bo asks if he wants to drive and Luke says it looks that way. Jesse tells them to be careful as they know what happened to the curious cat. Luke asks what and Jesse isn't able to answer before they leave.
Boar's Nest
Boss puts on his damp pants when they hear a knock at the back door. Rosco tells him and Boss says for him to answer it. Rosco does to see who he thinks is Bo and Luke, who carry him to Boss. Upset, Rosco threatens to hit them and Boss is amused. Rosco asks what he's laughing at and the two say they aren't Bo and Luke. Rosco insists it is them but they pull off the masks and wigs to Rosco's horror and shock. Boss explains the masks and wigs had him fooled. Rosco takes him out to show him something. He says he found a man in Atlanta who makes masks and wigs from people's photographs. He says he sent some pictures of the boys to him. He then shows Rosco a model of the General Lee and says he had it made too. Rosco says he loves it.
Road
Bo and Luke head toward home with the wire. They pass Turk and Moody who fall in behind them in their car. Bo notices the car and Turk pulls out a can of gas. Turk throws it in the back of the General and it starts to fill up with purple smoke. Bo tries to get the can as Luke tries to keep from wrecking. The two follow them and Luke jumps the General by accident. Luke stops and Bo finds the can. Luke climbs out and Turk and Moody capture them.
Boar's Nest
Boss makes an ice cream Sunday and he and Rosco argue about Rosco's cut in the deal. Boss tells Rosco they will toss a coin for it, and they settle on 20%. Rosco makes Boss return his quarter and Boss gets a call from Moody to tell him they got the boys. Boss decides to reorganize the safe but throws out his back again. When Rosco confirms he can't move an inch, he takes Boss' ice cream and starts eating it.
Coffin Works
Moody goes back inside where Turk is standing over Bo and Luke, who are tied up on the floor, playing with a gun. Luke asks what it's about but they ignore him. Moody says for them to put the boys in 'dead storage' and they put them in coffins.
Duke Farm
Daisy is washing Dixie and Jesse remarks it's looking good and the boys should have been back an hour ago. He says it isn't like them to delay when he sends them on a task. Daisy says they will be back in 10 or 15 minutes. Neither of them believe it.
Cutlerville
The armored car men leave the bank with the money. One of Boss' allies call him to inform him.
Boar's Nest
Rosco is trying to fix Boss back by massaging it. The phone starts ringing and Boss tells him to answer it. Rosco says he's only got two hands. He chops Boss' back with on hand while holding the phone with the other. Boss thanks his friend before having Rosco to hang up and tells him to get on with it as the truck should be there in seventy minutes.
Duke Farm
Daisy is shucking corn for dinner and Jesse remarks he doesn't like it as they haven't' heard anything. Daisy asks him to use the C.B. and Jesse says he's tries. He decides to call Cooter. He has Mabel connect him to the Garage.
Hazzard Garage
Cooter is working on an engine when his phone rinks. He answers and Jesse asks if he's seen the boys. He says he hasn't seen anything and asks what is up. Jesse says he doesn't know and asks him to keep his eyes open and he and Daisy are going to go out looking.
Duke Farm
Daisy and Jesse leave for the Garage.
Coffin Works
After changing, Turk and Moody uncover the other General and put on the masks and wigs before heading to town. Inside Luke tells Bo that they should rock the coffins back and forth. He says they might be able to knock them over and bust out. Bo agrees saying they have nothing to lose but a mouthful of splinters. They starts banging them together. Turk and Moody leave for Hazzard.
Hazzard Bank
Boss stands outside of the bank, waiting for the armored car.
Coffin Works
Bo and Luke lean the coffin's on each other. Luke says Bo is leaning on him and Bo says he is leaning on him. Luke says for Bo to go the other way. Bo tries and when they hit each other Luke emphasizes 'the other way'. They fall over and break out. The two roll to each other and Luke starts to untie Bo.
Hazzard Bank
The Armored car pulls up and Boss goes to greet it. Turk and Moody pull up behind it, disguised as Bo and Luke. Jesse and Daisy pull into town. Turk and Moody go over to the car and pull out guns. The people of Hazzard are stunned as they pull out guns to rob the men and Boss pretends to be shocked, holding up his hands and the cane he is using to walk. As the two head back to the General, Daisy and Jesse see what happened and stop in shock. Cooter looks over from the Garage and watches in confusion. Jesse and Daisy take off after them, picking up Cooter along the way.
Coffin Works
Bo and Luke slip out the Coffin Works. Seeing the red car, they assume the men are still there and rush over to the General to drive away.
Town of Hazzard
Boss tells Rosco to make it look good and his back goes out again, leaving Rosco to chase after them alone.
Road
Luke and Bo head to town. Turk and Moody are driving toward them with Jesse and Daisy following, and Rosco behind them. Turk and Moody head toward the Coffin Works and a few seconds after they pass an intersection, Bo and Luke turn onto the road, heading toward Jesse, Daisy, Cooter, and Rosco. They are surprised to see Daisy and Rosco hogging the road and are forced to jump over them all. Daisy and Rosco both stop in surprise and Luke turns around to head back. Rosco, thinking it is Turk and Moody rushes out to stop them. They stop to everyone else's shock and get out to talk to Rosco. Rosco whispers asking what are they doing. Confused Bo whispers back 'doing what?' and Rosco says they know. Luke whispers that if they know and Rosco knows, why are they whispering. Rosco realizes it's Bo and Luke to which Bo says 'right' before asking who are they supposed to be. Rosco says they just robbed an armored car, confusing them. Cooter, Jesse, and Daisy storm over telling Rosco to hold on and they are sure the boys have a good explanation. Bo and Luke are even more confused. Bo says he has no idea what everyone is talking about but he and Luke were 20 miles away from town for the last three hours and Luke says they were tied up in the Coffin Works. Rosco says he has a witness and Jesse says he can't lie and he did see them. Cooter and Daisy try to say they aren't sure what they saw. Luke says they have never lied to their family before and they aren't starting now. They didn't go anywhere near the bank all day. Rosco tells them to get out of the car. Shocked, Daisy approaches him saying he's not going to arrest her cousins is he and she is getting so worked up she might faint. Daisy pretends to faint, falling in Rosco's arms. Rosco catches her as Bo and Luke take off. Cotoer picks Daisy up from Rosco and carries her over to the front of Rosco's car. Daisy sprawls out as much as she can and Jesse starts fanning her with his hat. Rosco yells for them not to put Daisy's body in front of his vehicle and Jesse yells that can't he see the lady has fainted. Rosco says he don't have time for this. He pulls away and the three grin.
Bo and Luke talk as Luke drives. Bo asks if that made any sense and Luke admits it doesn't. He says they all seem to think they robbed the bank and says maybe they just all need glasses. Bo proposes there are two guys running around looking just like them as a joke. Ahead on the road, a truck hauling industrial glue had spilled all over the road. A sign is put up about the road being closed. Bo has Luke stop so he can push over the sign. Luke drives up the road, stopping behind the truck and Rosco drives ino the glue, stopping his car.
Boar's Nest
Cletus works on Boss' back, saying he watched a chiropractor in Atlanta and was told manipulation is the best thing to snap the back, back into place. Rosco calls Boss and Boss has Cletus put earplugs in so he can't hear him. He talks to Rosco again and Rosco admits that Bo and Luke got away. Boss tells him to put an APB on the Dukes and to get to the Boar's Nest. Rosco says that isn't that simple and he's at Clear Creek Drive and he needs Cooter to come tow him. The C.B. cuts out and Boss tries to get Cletus' attention. However since he cant' hear Boss, he thinks Boss is ready for him to work on his back again after he's hit with the CB and Boss tries to get him to go get Cooter. In frustration Boss flips Cletus onto the ground.
Duke Farm
Bo, Luke, Daisy, Jesse, and Cooter are eating and they fill in Bo and Luke on what they saw. Bo asks if they went to the Coffin Works and Luke agrees. They suspect the two robbers are mixed with the people who tied them up. Luke says they should go to the Coffin Works. Daisy says her and Jesse will head out to Chestnut Trail. Cooter says he'll take Indian Springs. They all agree and Jesse dismisses them. Luke offers Bo his sandwich as they leave.
Coffin Works
Turk and Moody find that Bo and Luke are gone and start dividing up the money. Turk points out that Boss isn't going to be happy but Moody says that with the boys free and Boss being unable to say anything they can keep robbing banks as Bo and Luke until the boys are caught.
Boar's Nest
Boss informs Rosco that he must also arrest Turk and Moody. Boss says he will have to come up with some charges against them so they don't have to split the money with them. Boss leans back in his chair and nearly falls to the ground.
Road
Turk and Moody drive the replica General. Bo and Luke drive in the General looking for them but are on the wrong road. Daisy and Jesse find them. Daisy radio's to Bo and Luke saying they found the doubles. Bo and Luke head out to cut them off. Turk and Moody notice them and Moody starts shooting at them. Jesse tells Daisy to watch it as she avoids them. When they shoot out her windshield she pulls over. Jesse decides he will drive and has Daisy call the boys as he kicks down the windshield and begins driving again.
Rosco and Boss head out and Boss reminds Rosco to not say a word until they get the money. Rosco says if Turk and Moody don't claim their money then there is more to split. Boss tells him to check on the APB and Rosco radio's out to Sheriff Little, who is waiting at the Chickasaw County line. Turk and Moody pass him and Little chases after them. Moody and Turk decide to put on the disguises again.
Coffin Works
Boss and Rosco show up to the Coffin Works, being startled by a coffin falling over. Rosco says he didn't see the General Lee replica and Boss expresses he's beginning to get a funny feeling. Rosco says he don't doubt it with how Boss eats. Boss says he is talking about Turk and Moody taking the money and leaving.
Chickasaw
Little continues the chase, radioing his deputies. He says he is on 71 headed East. Bo and Luke hear him and realize they others are in Chickasaw and radio Daisy and Jesse, all agreeing to help. Rosco and Boss go to Rosco's car and hears the report. Boss remarks they don't know who Little is going after and decide to head after them.
Bo and Luke cut across Clear Creek while Little continues to chase Turk and Moody. They catch up to the others and fall in between Turk and Moody and Little. Little is stunned and confused. Bo radios Jesse and Daisy to say they turned off into Jackson Forest. Boss and Rosco catch up and Rosco asks if Boss wants him to follow or drive straight into prison. Boss says they aren't out of hope yet. Daisy and Jesse join the others and Moody and Turk realize Bo and Luke are gaining on them. Boss and Rosco hit a bump and are forced to stop. They see the two Generals and Rosco asks which ones is he supposed to help and Boss yells for him to cut them all off. Rosco hits a tree but rejoins the chase only to collide into Sheriff Little. Daisy and Jesse pass them all by. Jesse tells them to heard Turk and Moody west and the boys agree. Bo counts down from five as Daisy and Jesse pull up along side. They force the replica to flip and Turk and Moody crawl out. The Dukes capture them.
Balladeer: If ya'll liked that you should have seen ol' Bo play linebacker for Hazzard High. He plum wore out two boar hogs as tackling dummies. Well the Double Dukes were caught and taken away to jail. Boss got himself off the hook by swearing that he'd ordered them Bo and Luke masks as a practical joke for next Halloween. How Turk and Moody got ahold of 'em and the bogus General Lee he hadn't the slightest idea. Boss is slick. Bo and Luke were not only cleared of all the charges but they got the reward money from the Armored Truck Company and they gave it to the County Orphanage. They sure would've liked to have bought that bogus General for spare parts, but it was impounded for evidence. One set of Bo and Luke and one General Lee is enough for Hazzard County anyway. So with just a single pair of Duke Boys things were working normally in Hazzard County, including Boss' celebrity speed trap.
Boss and Rosco watch at the Hazzard County Building as Little takes Turk and Moody away. At the Garage the Dukes and Cooter look over the wrecked replica of the General Lee as it's taken away.
Boar's Nest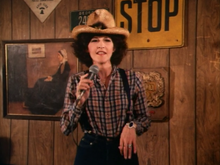 The Celebrity Speed trap catches Donna Fargo. Daisy serves drinks as Boss and Rosco stand by the office door. Daisy sits with Jesse, Bo, an Luke at a table in the front as Donna Fargo sings. Boss and Rosco dance a little as she sings. When she finishes Boss makes a speech and she goes to leave, stopping with the Dukes when Boss tells her not to leave upset. She says she's never sang for blackmail. Rosco threaten her and Boss quickly says she is free to go.
Cast
Main Character
Guest Star
Locations
Continuity
The Balladeer says Miz Tisdale began riding her motorcycle when she was told to slow down.
This is the second time Bo being a linebacker on the Hazzard High School Football team is referenced.
Rosco catches Donna Fargo in the Celebrity Speed Trap who performs "Lone Star Cowboy"

Donna Fargo had previously helped the Dukes catch a record pirate in Daisy's Song, however it is unknown if she knew exactly who she was making the rehearsal tape for.