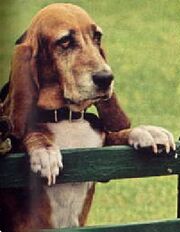 Flash is a pet dog owned by Sheriff Rosco Coltrane.
She is a slow-paced basset hound and Rosco's loyal companion, who hates Hogg but loves the Dukes. She first appeared in the first official third-season episode "Enos Strate to the Top" (season opener "Carnival of Thrills" was held over from the previous season), although was not formally "introduced" in that episode.
Flash's favorite food is "doggie num-nums," a type of doggie treat that Rosco feeds her.
Trivia
Initially referred to as a boy, Flash is later regularly a girl (despite an occasional male reference afterwards).
Flash was added at the start of the third season, after James Best suggested to the producers that Rosco have a dog.
The song "Flash," performed by James Best as part of the Dukes of Hazzard soundtrack album released in 1981, is a tribute to Rosco's dog
Appearances
Gallery