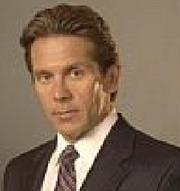 Gary Michael Cole (born September 20, 1956) is an American actor. Cole is best known for his supporting roles in numerous television and film productions in the 1990s and the 2000s.
Life and carreer
Cole began his professional career as a stage actor in Chicago, where he joined the ensemble of the famed Steppenwolf Theatre Company in 1985. He also appeared in several off-Broadway productions in New York City. He has done voice work on several animated series (Family Guy; Kim Possible; Harvey Birdman, Attorney at Law) and had a recurring role on the drama The West Wing as Vice President Bob Russell.
Between 1988 and 1991, Cole became popular on TV for playing the part of Jack "Nighthawk" Killian in the series Midnight Caller.
In 1999, Cole starred in the comedy film Office Space where he portrayed the obnoxious, demanding supervisor Bill Lumbergh.
He played The Brady Bunch patriarch Mike Brady in the 1995 film The Brady Bunch Movie, the 1996 sequel A Very Brady Sequel, and the 2002 TV movie The Brady Bunch in the White House.
Cole is the voice of the title character on the Adult Swim series Harvey Birdman, Attorney at Law.
The Dukes of Hazzard: The Beginning (2007)
Cole took over the role as narrator in the 2007 Dukes of Hazzard movie, The Beginning
External links
Community content is available under
CC-BY-SA
unless otherwise noted.