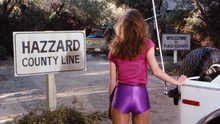 Placid County is a county that boarders Hazzard County in Georgia.
Residents
Events
County Motorcross- a yearly event. The entry fee is $100. Jeb Stuart Duke planned to participate in 1981 and won the event. [1]
Organizations
Powder Puff Division- a racing division in Placid County for female drivers [2]
Appereances
Season 2
In order to allow Jude Emery to arrest Snake Harmon, Bo and Luke put Snake in their car and jump the dry river creek into Placid County to remove Snake from Hazzard. Jude Emery and Daisy said goodbye at the county line and Emery cut through the county on his way back to Texas.
References