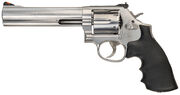 The Smith & Wesson Model 686 is a revolver introduced in 1980 by the firearms manufacturer Smith & Wesson. It is made from stainless steel and has a 6-round cylinder chambered for the calibers .357 Magnum and .38 Special.
Appearances
A Smith & Wesson Model 686 is owned by Sheriff Rosco Purvis Coltrane who carries it throughout the film. He threatens Uncle Jesse, Bo and Luke after they almost had run over his pet dog Flash.
While Coltrane tries to search the General Lee for spirit, Bo can take away the revolver and empty the cylinder from cartridges.
When Coltrane chases the Duke cousins, he draws his revolver and tries to shoot at them.
External links