"The Fugitive" is the fifth episode of the fourth season of The Dukes Of Hazzard.
Summary
As the Dukes are helping Bo prepare for the Tri-Counties Motocross motorcycle race, an attractive drifter named Mindy Lou overhears Boss and Rosco talking about stealing motorcycles from the competitors, repainting them, and shipping them to Leroy Dibbs, so Leroy can sell them. Because of that, Boss wants Mindy Lou out of the way, so he orders Rosco to arrest her, but she escapes from Rosco and is found by the Dukes, who try to help her.
Plot
Balladeer: In Hazzard County, it it's got something to do with wheels or something to do with speed well, you know the Duke boys are gonna be involved. This time it's Bo and he's working out for the annual Tri-County Motocross at the Fairgrounds, and tomorrow's the big day. Yes Sir, the Motocross racing  attracts motorcyclists from every neck of the woods. So Boss Hogg puts up $500 first prize. Which in these parts will keep you in collards and hushpuppies for quite a while.  But some folks didn't come for the race or the chance to win the $500 first prize. They're countin' on them scooters for their own reasons. Trouble is you gotta be real careful where you park. See what I mean?
While training for the upcoming motocross, Bo is testing his motorcycle while Luke and Daisy follows him in a pickup. Daisy asks that Bo is taking the curves too fast and Luke says you don't win by hugging the middle of the road and he's doing just fine.
Boar's Nest
Many people gather at the Boar's Nest, bringing their motorcycles to participate. People go into the dinner and a woman stops at Bill's Gas. As she tries to get a drink from a machine, her bike is stolen. At the diner three men stop in the same truck, picking up two more motorcycles that were left outside. A young woman, Mindy Lou, gets dropped off by a pickup.
Balladeer: Now if you're wonderin' who's behind all them motorcycles disappearing, well I'll give you one guess. Uh, make that two guesses and you'd be right. Boss Hogg and Sheriff Rosco P. Coltrane.
Peabody Barn
Boss and Rosco's cars are sitting outside of a barn. Inside Boss is eating a sandwich while the three men are repainting the bikes they stole. Rosco tries to talk to Boss while he's looking at the bikes. Boss decides to leave before paint gets on his sandwich. They go outside and Boss says if they can get 56 of them and repaint them then he should be good for at least 10-20 thousand in extra pocket money. Rosco asks what he'll get and Boss says nothing unless he can help them. They are startled by the arrival of Mindy Lou who asks if she can borrow their telephone. Boss asks how long had she been standing there and she says not long, she just wants to use the phone. However Boss tells Rosco to arrest her. Shocked, Mindy Lou flees. Boss tells Rosco to go after her as she heard everything they said. Rosco manages to catch her and takes her back toward the car.
Road
Bo continues to drive on the road with Daisy and Luke following. Rosco comes at them from the other way. Daisy and Mindy Lou both yell to look out and Luke and Rosco manage to stop before hitting each other. Bo gets ran off the road and jumps the bike but is unharmed. Daisy and Luke rush over the check on him, as does Rosco, but Bo gets back to the road. Rosco asks them if they know what he ought to do and that's arrest them. Daisy asks that he isn't and Rosco says 'heck no'. At Rosco's confirmation the three leave. Rosco yells at them and Bo waits until Luke and Daisy back up the truck before driving away and the others follow. Rosco goes to ask Flash and Mindy Lou about what happened but sees Mindy Lou is gone. He looks up in time to see her climb into the Duke's truck. Rosco them chases after them to get his prisoner back.
Rosco tries yelling to get their attention, but Luke and Daisy are more worried about Bo. Daisy notices Rosco and says she wishes Rosco would make up his min. Luke honks to get Bo's attention and signals to Bo what he wants him to do. They both pull off in the bushes and hide until Rosco flies past. A few moments later Rosco realizes they are gone and says Flash lost them.
The Dukes go to load up the bike when they see Mindy Lou in the back. They talk to her to learn that the Sheriff is after her for trespassing, which confuses all of them. Rosco calls Cletus on the C.B. and tells him that the Dukes aided a criminal to escape and he wants Cletus to block every road, confusing Cletus.
Boar's Nest
Rosco calls Boss Hogg, who says he's been listening to them on the CB and they need to listen to him. He says sooner or later the girl is going to tell the Dukes so Rosco needs to find her and the Dukes and lock them all up.
Road
The Dukes continue to talk to Mindy Lou and learn she is trying to go to school and stopped in Hazzard to sell Motocross t-shirts for her college tuition. She says she just wants to get to Macon to register. Luke says they can run her down to the county line so Rosco can't get at her. Bo says they can sell the t-shirts too, and Daisy says they will then send her the money. She agrees and Luke says to ride in the back for now to keep from being spotted, but let them put the motorcycle in first.
Freight Depot
Boss makes a call to his partner, telling him he wants another $2500. Dibbs asks for what and Boss says for a sign painter.
Police Department
Boss finishes painting a 'Free Motorcycle Parking Sign'. Annoyed the man tells him to just send him motorcycles. Boss says he'll get them before hanging up.
Road
While blocking the road, Cletus plays with his gun but hurts his hand in the process. The Dukes head toward him and Cletus continues to play with his gun, trying to throw it in its holster. Luke manages to stop before hitting Cletus. Cletus dives on his car to keep from being hit. The Dukes get out and ask how he is. Cletus says he's alive and Bo says that's good. Luke asks that Cletus actually thought he'd hit him and Cletus says of course not as he knows none of the Dukes would hurt anyone. He tells him he has bad news as he is supposed to arrest the three of them. He asks if they would give him trouble and Luke says no but Bo asks why. Cletus says he's searching the truck and moves past Bo and Luke. He searches the back, and the Dukes try to stop him but they are all surprised to see no one in the back. Bo asks if Cletus was expecting John Dillinger and Cletus says he's dead. Cletus tells them that he was told they were helping a fugitive. They all laugh about it but Cletus asks about the duffel bag. Daisy claims it's her laundry and offers to show it to Cletus, saying it's mainly her 'dainty things'. Embarrassed Cletus refuses saying him mom would whip him. Cletus lets them go. As the Dukes drive off they wonder where Mindy Lou is. As they drive though, Luke sees Mindy climb out from under the truck and into the back, informing the others. They all look and laugh. Luke says they need to get back to the Farm.
Police Department
Cletus calls Rosco and informs him what happened. Rosco calls him a dipstick. He tells Cletus to look hard at his pay envelope because stupidity is subject to withholding tax. While Rosco screams at him, Boss comes in asking what is all the yelling about and telling Rosco that a man who raises his voice shows that they have lost complete control of themselves. Rosco apologizes and explains that Cletus let the boys go. Boss starts screaming that he's a lug nut and he's surrounded by lug nuts. Boss tells Rosco to find the girl or he will have to find a way to feed Lulu as Leroy will get mad at Boss and then Boss won't be around anymore.
Duke Farm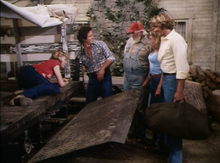 Luke, Daisy, and Bo arrive on the Farm. Jesse stands up saying it sure is nice the three of them can come by for a visit. He says maybe now he can find out what's going on. Daisy tells him not to get his blood pressure up but he says he wants it up and Cooter had to call him to tell him they were wanted by the Sheriff again. Daisy takes him to the back where Bo and Luke are getting out Mindy. Jesse asks how they can get in trouble with the law until he sees Mindy saying 'that's how you manage'. They introduce Mindy Lou to Jesse. While the boys try to figure out what Rosco wants, Daisy takes Mindy Lou inside. They overhear Rosco telling Cletus that he is headed to the Duke Farm. Luke says they need to get Mindy Lou across the county line soon. Bo asks how and Luke says he'll explain but Bo needs to go get the girls and meet him at still site 3. Luke says they need all three vehicles.
Peabody Barn
Boss goes to his three men and ask about what colors he has. Two of them show him the orange and blue paint and the third sprays the red paint directly on Boss' suit. Boss is furious and yells he hates red. Rosco comes in and assumes it was a gunshot wound. Boss shows him it's paint and Rosco tries to hug him saying he doesn't know what he'd do without him. Rosco says he went to the Duke Farm and no one was there. Rosco leaves to keep looking.
Still Site 3
Mindy Lou tells the Dukes everything she can remember about the run in. Mindy Lou says all she can remember was Boss talking about repainting his motorcycle. The Dukes realize Boss is behind the motorcycle thefts and has been repainting them to sell them. Jesse say she overheard the plan and Boss wants her arrested for a few days. She protests, telling Daisy that if she's not in Macon in two days she will have lost everything. Daisy tries to hug her. Bo says the biggest problem is getting her across the county line. Luke says they are going to make everyone think she is where she ain't. Luke gives them the plan.
Road
Rosco hears Bo and Luke talking to each other over the CB. They say that Mindy Lou is with Luke and that Jesse is going to be a decoy across Choctaw County line on highway 22. Luke says he and Bo will then go on Highway 35. Bo asks what makes Luke so sure the 'tin badges' will follow Jesse and Luke says Flash will catch on before they do. Rosco heads out to find Bo and Luke. At the Still Site, Mindy Lou leaves with Jesse while Daisy gets in the General. They scatter. Rosco radios Cletus and tells him to go after Bo and Luke on Highway 35. Cletus watches Jesse pass and radios back telling Rosco that Jesse has a girl with him. Rosco says that is Daisy. Cletus goes to join Rosco on Route 35.
Bo drives past Rosco, who turns to chse after him. At a construction site a man is getting out of a man hole. He ducks back in when the General passes over. He decides to eat his lunch but is nearly hit by Rosco. The man quickly pulls the man hole cover him, deciding not to come back up. Boss radio's Rosco to ask if he's got the girl.  Rosco tells him that Cletus is going to cut the Dukes off at Dry Creek Crossroads, which the Dukes overhear in the General. Bo turns and goes the other way, causing Rosco and Cletus to run each other off the road. Rosco goes into a creek and Cletus hits a tree.
Jesse and Mindy Lou stop at the county line. Jesse tries to have her run across but Rosco and Flash come out from behind the sign. Rosco goes to arrest them and Jesse asks how he got there. Rosco explains he took route 20 to the ridge before telling him that it is a secret. He goes to arrest Mindy but Jesse grabs him and holds him. Mindy gets across the line and Jesse says that Rosco can't go after her as it would be out of his jurisdiction. Jesse surrenders and leaves with Rosco.
Bo, Luke, and Daisy return to the still site, celebrating their success while Rosco drives Uncle Jesse in his truck to jail.
Hazzard Garage
Cooter finishes filling a motorcycle with gas and wishes the driver luck in tomorrows race. He looks over to see Rosco and Jesse arrive at the Police Department and becomes concerned. He watches Rosco take Jesse in before running to the CB.
Still Site 3
Bo and Daisy are laying together on the hood of the General while Luke is leaning on Dixie. They hear Cooter calling, waking Bo up who grabs the CB and asks what is going on He informs them Jesse was arrested and Luke takes the mike asking if there was another girl. Cooter says no and asks if they want him to bust Jesse out. Luke declines and Cooter says he'll wait. Bo and Luke ask what are they going to do and Daisy asks what kind of leverage they can have to help them. Luke says maybe if they find the stolen bikes. As they wonder where they are, Mindy Lou arrives. Despite the Duke's protests, she insists on helping. She says she might be able to help them find the barn. The Dukes mention she has never mentioned a barn before. Bo says that the barn must be off Mt. Vernon Highway and Luke says the only place it could be is the old Peabody Barn. They leave to find the barn, Bo and Luke going in the General and Daisy and Mindy Lou in Dixie.
Peabody Barn
Boss's men continue to pull in stolen motorcycles.
Police Department
Jesse snaps at Boss and Rosco saying that they have no right to hold him and the girl was a hitchhiker and all he did was give her a ride. Boss says they will just let the judge be the judge of that. Rosco says Boss is the judge and begins laughing. Boss remarks he now knows what a laughing hyena sounds like. Boss reminds Rosco that he was the one to let the girl get away. Jesse asks what kind of trouble is this girl in that would cause them issues. Without thinking Rosco tells Jesse about the motorcycles. Boss pulls him away and tells him to stay quiet. Rosco assures Boss that the girl left the county. Boss then sends Rosco and Flash out to find the girl.
Peabody Barn
Bo and Luke sneak up to the Peabody barn and check inside. They see the motorcycles and head out to meet up with Mindy Lou and Daisy to tell them they found the correct place. Luke tells them he has a plan and they sit down for Luke to review them.
Road
Daisy goes to town to get Cooter and Bo and Luke go with Mindy Lou to get her t-shirts. Rosco gets back on the road as well. Luke asks Mindy Lou to hide and she does. Rosco passes the General and turns around to chase after them. Rosco tells Flash they will get the whole Duke Clan in one fail swoop. He chases after the boys and Luke goes through Timber Top Acres. When Rosco hangs on, Luke says they will try Whilton bridge. However they see a tree laying across the road. Luke manages to go around it and Rosco goes down a steep hill. He tells Flash not to tell his insurance.
Luke lays out a plan. Bo is to take Daisy down to greet the last minute arrivals with Mindy Lou's t-shirts, which Bo agrees to. Daisy says she is going to sell them but Luke corrects her saying she isn't going to sell them but give them away. Daisy protests but Luke says to give them to every girls with hair anything like Mindy Lou's. Daisy asks what is she supposed to do for school but Bo says it's the only way this will work and Mindy Lou agreed. Luke turns to Cooter who says he'll 'hook 'em'.
Balladeer: I don't know what they are going to use for bait, but if they are gonna catch old Boss, they better get a big hook. Well meanwhile everyone from Choctaw to Milford County was still coming in for the big race the next day. And if Boss gets his way, they'll all be walking when it's over.
Town of Hazzard
Large crowds continue to filter into Hazzard. Daisy is handing out t-shirts in the town square. She saves to Bo who is watching from an alley. As Boss walks out to his car, Luke drives up to him on a bike with Mindy behind him on the bike. He calls to Boss, saying 'look who is back in town'. Boss realizes she's the girls and they drive away. Boss tries to follow in his car but he can't get it started. Seeing a motorcycle nearby, he goes over and puts on a helmet. After starting it he heads after Luke.
Road
While chasing Luke and Mindy Lou, Boss radio's Rosco and Cletus. He informs them that the girl is on a motorcycle with Luke and he's on his own motorcycle chasing them. He says they are on Highway 33 and for them to watch out for the girl. Rosco and Cletus both radio back.
Town of Hazzard
Luke radio's Bo, who answers and is amused to learn Boss is on a motorcycle. Bo says Daisy is good with the shirts and Luke says to pack up. Bo whistles for Daisy and she runs back to him. The two head out to get Cooter.
Road
Luke turns off the road and hides in the bushes. Boss radio's back and tells Rosco and Cletus to watch out for the girl.
Town of Hazzard
Rosco believes he sees Mindy Lou and approaches a woman only to see she isn't Mindy Lou. He tells her to have a nice day. Another couple pass by on a motorcycle and he tells at them to freeze only to see it's not Mindy Lou again. Trying to cover up his mistake he offers to let the woman make a draw with his pistol. Cletus also sees a group and tries to arrest them only to see the woman isn't Mindy Lou either.
Road
Bo, Daisy, and Cooter head toward the Barn, Bo jumping as he does. On the bike, Luke and Mindy Lou pass Boss on the road getting him to chase them again.
Peabody Barn
Bo and the others creep up on the barn and see the three men inside still painting. Daisy goes into the barn first, Bo and Luke following. Daisy then calls all three to get their attention. They ask what she's doing there and she takes the spray gun, spraying one in the face. The other two move but Bo, Cooter, and Daisy each knock one out. Bo and Daisy hug and Cooter says to remind him to tip Daisy next time. Bo tells Cooter to do his thing and he and Daisy will tie up the guys.
Road
Boss continues to chase Luke and Mindy Lou. He radio's Rosco and Cletus and tells them Luke is on Tunnel Creek Road. Rosco and Cletus both report they are on their way. Luke jumps a creek and Boss is unable to follow, being forced to go around. Luke and Mindy Lou hide in the bushes waiting for Boss to arrive.
Peabody Barn
Boss arrives at the barn, falling over and yelling at the motorcycle. He goes into the barn to see three people. Assuming it's his men he tells them they need to get ready to move. When none of the three acknowledge him, he tells them he said to move. They continue to ignore him and Boss reminds them that the motorcycles will get them all in jail. Luke and Mindy Lou come in the barn and Boss tells his men to capture them. Bo, Cooter, and Daisy take off their disguises. Boss yells that he's surrounded by Dukes and Cooter adds 'and on Davenport'. Daisy points out his men who are tied up in a corner. Boss says they are still going to jail and the boys inform him that Cooter recorded his confession. When Boss tries to take it back, Cooter sprays him with paint. Daisy hugs Luke as Boss promises to drop all the charges against the Dukes and Mindy Lou.
Balladeer: Well you can figure out for yourself what Boss had to do to get that tape recorder from them. Jesse was released and all the charges against all the Dukes was dropped. And wouldn't you know it, Bo won to motocross, blowin' away. He even got his picture in the paper. As for Boss, he had to return all 'em stolen motorcycles to their rightful owners. And for the first time he was outta a crooked business before he ever got into it, thanks to the Dukes. Mindy Lou got to go to nursing college in Macon, 'cause Bo donated his racing winnings for her tuition. All in all, it's been a pretty nice day in Hazzard. Except for Johnny Paycheck, who got caught in Boss' celebrity speed trap.
Police Department
Rosco releases Jesse from his cell and Bo greats him while Luke and Daisy follow them out.
Fairgrounds
The Motocross occurs and a few motorcycles wreck. Bo crosses the finish line and his picture is put in the paper.
Police Department
Furious, Boss starts ripping up all the fliers for the motocross.
Town of Hazzard
Mindy Lou waves goodbye to the Dukes and Cooter as she leaves on a bus. Bo, Luke, and Daisy all hug.
Boar's Nest
Johnny Paycheck plays 'Take this Job and Shove it'. Boss and Rosco stand nearby, Boss getting upset at the song choice. Daisy and Jesse sit at the bar and Bo, Luke, and Cooter sit at the front table with Cletus sitting nearby. As he sings the choras again, Boss gets upset and the Dukes are amused. As Johnny Paycheck finishes the song, Boss asks if those are the correct words to that song. He assures Boss that those were the exact words and asks if there is a problem. Boss asks if it's un-American. Johnny Paycheck points to Bo and Luke and says he's like them and has been against the establishment. Boss says he'll give him a second ticket for establishing a riot. Johnny says that he can go ahead and do that and then he'll sing a song to tell Boss what he can do with both the tickets. Everyone laughs as Boss rips them up.
Cast
Main Character
Guest Starring
Locations
Hazzard Diner
Bill's Gas
Peabody Barn
Freight Depot
Still Site 3
Continuity
Johnny Paycheck is caught in the Celebrity Speed Trap and sings "Take This Job and Shove It."

Paycheck actually lip-syncs the original recording of the song.

The last motocross the Dukes were participating in was Jeb Stewart Duke in Placid County's motocross.
This episode is the first time Boss Hogg had ridden a motorcycle