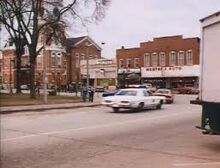 The Town of Hazzard is the main residential area located in Hazzard County, Georgia.
Layout
Interstate 104 (North and South) leads to the Town of Hazzard. [1] As well as Route 36 (West and East). [2]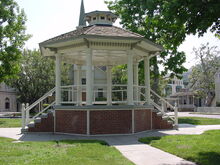 The Town of Hazzard is laid out in a main square with most of it's prominent businesses located along the roads and a grassy area with a gazebo in the center that functions as the Town Square.
History
Hazzard was settled sometime in the mid 1700's with the Duke Family early residents. [3] Some time before 1872 the town had been renamed to "Sleepy City" and the Hogg Family, Coltrane Family, and Davenport Family had settled into the area. [4] Later the town's name is changed back to Hazzard.
During Hughie's attempted take over in 1981, the Town was renamed Hughie Town, but changed back the very same day. [5]
Prominent Locations
Barber Shop
Billy Joe Fong's CB Radio's [6]
Carol's Jewelry [9]- a store located next to Rhuebottom's
Dan's Auto Parts Store [10]- a store with a yellow sing on a back alley in Hazzard
Dixie Dinner [11]
Doctor's Office [12]
Drug Store [13]- on the other side of the street from the Bank. Shares a space with the Ice Cream Parlor and the Bus Stop
Fanny's Flowers [14]- Flower shop next to the Post Office
Franky's Fabrics- [15] on the other side of the street from the Hotel
Furniture Mart [16]- Furniture Store next to the USO and the Phone Company Office
Gordan and Lowell Attorney Office [17]
Haggard's Bakery [18]- Owned by Sarah Jane
Hazzard Bus Depot- larger bus stop that was later added to the town. [19]
Hazzard Cleaners- owned by Mrs. Walker[20]
Hazzard County Telephone Company- BLD 712[22] It is next door to the Theater.
Hazzard Dry Good's Store- proprietor is J.D. Hogg [23]
Hazzard Emporium [24]- a shop that opened next to the Telephone Company and replaced Seth M. Barley Co. [25]
Hazzard Gold & Silver Emporium [26]
Hazzard Jewelry Store [27]
Hazzard Photo Shop- owned by Jake Sumner[28]
Hazzard Theater [29]- located between the Furniture Mart and the Drug Store
Hotchkiss Funeral Home- 102 Riskin Ave. [30]
Ice Cream Parlor [31]- on the other side of the street from the Bank. Shares a space with the Drug Store and the Bus Stop.
J.D. Hogg Furniture Mart[32]
J.D. Hogg Real-estate [33]
Joe's Hardware Store [36]
Kelly's Place [37]
Martin's Emporium [38]
Maynard's Clother's [39]- Two businesses behind the Bank
McCob's Oil [40]- between the USO and the Fabric Store
Mrs. Jackson's Boarding House [41]
O'Connor Paint Supply [42]- Paint store, red front, two down from Rhuebottom's
Otis Plunkett's T.V. and Appliance Store [43]- A store owned by Otis Plunkett next to the Barber Shop.[44]
Post Office- Between the USO office and the Furniture Mart
Pharmacy [45]
Pruitt's Printing Shop [46]
Rachel's Cafe [47]
Rick's Pool Room and Lounge [48]- a business with a red sign on a back alley, next to the auto store
Room and Board
Senior Citizen Center [49]
Seth M.Berley Co.- replaces the Furniture Mart [50]
Skipper Ward Surplus [51]- Store next to the WHOGG Radio Station
Sweet's Shop [52]
Tizdale Cab Company [53]
T.V. Shop- owned by Andy Tibbles [54]
W.H.O.G.G. Radio Station- next to the surplus store [55]
Uncle Charlies Upholstery [56]
U.S.O. Office- Between McCob's Oil and the Post Office
Gallery
References