For the horse of general Lee, see Traveller (horse).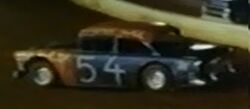 Traveller is Grady Hagg's stockcar in the 1975 movie Moonrunners. It is a 1955 Chevrolet and bears the number 54. The car was named after General Lee's horse Traveller.
Notes
The real-world insoiration for the trveler was the car of bootlegger Jerry Rushing that also was named Traveller.
Gallery
External links