Vance Duke, an obvious replacement for Luke, filled the void of a dark-haired Duke on the show.
Character biography
Vance, along with cousin Coy, had previously lived on the Duke farm until 1976, before the series had started. He was more of a thinker and planner and was known for getting in trouble and was always a team with Coy. According to Boss Hogg, the duo "make Bo and Luke seem like choir boys." While in high school Vance played on the football team as a linebacker.[1]
He had gone serve in the Merchant Marines after leaving the family farm. During that time he had visited a number of countries and places around the world, including Shanghai[2]. While in Savannah he met Jenny Walden. He fell in love and wanted to stay with her but they decided they were too different and went their separate ways. Vance stated that while in the Merchant Marines, he had learned about communications.[3]
When Luke and Bo decided to attempt a NASCAR career in 1982, they contacted him and he agreed to come back to the farm to help Uncle Jesse and Daisy in their absence.
Being written out of The Dukes of Hazzard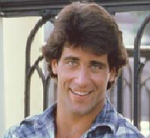 Both characters proved to be unpopular with fans and were written out after 19 episodes.
Cherry and Mayer replaced John Schneider and Tom Wopat while the latter two were in contract negotiations.
For more details on this topic, see: Bo and Luke leave the show
Trivia
In an interview, Christopher Mayer was asked where he would see Vance Duke in later life, Christopher said he see's Vance having many children, married to a pretty woman and be in fairly good shape but probably have a 'little more to my waisteline'. He said Vance would be somebody who would be involved in Hazzard County and helping the community
See also
external links
References