Waylon Arnold Jennings (June 15, 1937-February 13, 2002) was an American country music singer, songwriter, and musician.
Life and career
Jennings rose to prominence as a bassist for Buddy Holly following the break-up of The Crickets. Jennings escaped death in the February 3, 1959, plane crash that took the lives of Buddy Holly, Ritchie Valens, and J.P. "The Big Bopper" Richardson, when he gave up his seat to Richardson who had been sick with the flu.
By the 1970s, Jennings had become associated with so-called "outlaws," an informal group of musicians who worked outside of the Nashville corporate scene. A series of duet albums with Willie Nelson in the late '70s culminated in the 1978 crossover hit, "Mammas Don't Let Your Babies Grow Up to Be Cowboys."
Before one of his first appearances, Waylon lost his guitar. He met Jesse Duke, who gave him money to get a new one. The two had been long time friends ever since.
Appearances
Balladeer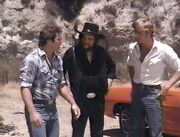 Outside the music industry, Jennings was also known as the primary voice of the narrator or balladeer on the television series "The Dukes of Hazzard" and its predecessor, the 1975 film, "Moonrunners".
In 1979, he recorded the theme song, "Good Ol' Boys" (an original Jennings composition), which is one of the most well-known television theme songs in American television history.
For seven years, country music legend Waylon Jennings led us through the exploits of the Duke family as they fought the system in Hazzard County.
In a 1985 episode, Waylon finally came to Hazzard. We learn why he sounded like he knew the Dukes personally as he told their tales. Over the family kitchen table, we learned that many years ago Waylon had his guitar stolen right before his first professional show. With no money to buy another guitar, Waylon thought his dream was over. Right then, a stranger came up and gave him the money he needed to buy an other guitar. That stranger was Jesse Duke. Waylon never forgot what Jesse did for him and the two became friends.
Interestingly, Jennings was replaced temporarily by "The Gentle Giant," Don Williams, during the 5th Season when the show's stars were embattled in a contract dispute.
Death
On February 13, 2002, Jennings died in his sleep of diabetic complications in Chandler, Arizona. He is interred in the Mesa City Cemetery, Mesa, Arizona. Waylon the man may be gone but his spirit lives on in the incredible music he left behind. He touched millions of people with his talent, and he will always hold a special place in the hearts of fans as the "voice" of the Dukes of Hazzard.
External links